The Process
Why do so many enterprising people consider becoming a Smash My Trash® franchisee? Because franchising with Smash My Trash lets you join a fast-growing, disruptive business with national reach and outstanding potential. Unlike many other franchise organizations, Smash My Trash provides extensive pre-opening training, continual regional operations support, and omni-channel marketing material.
Our pathway to ownership looks like this: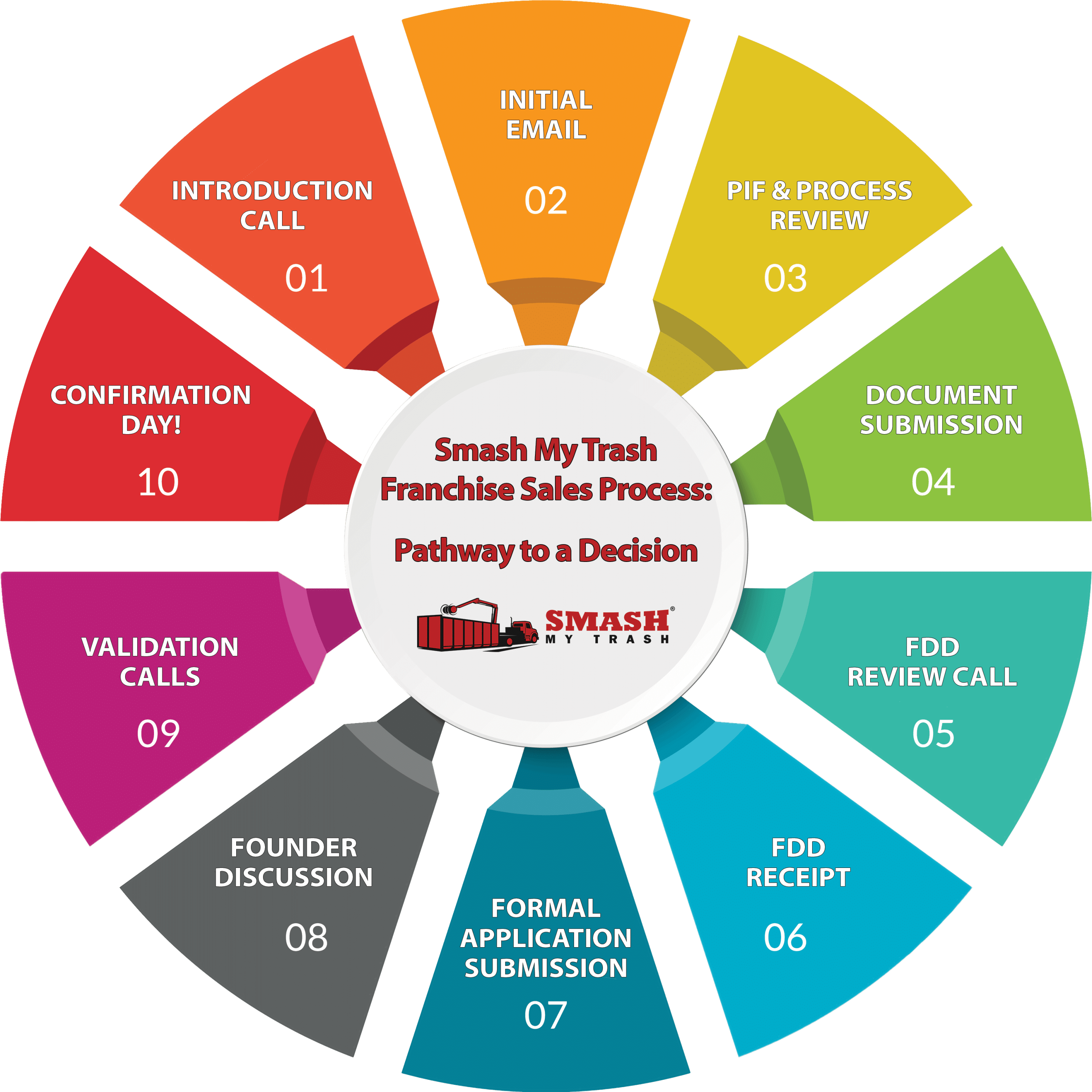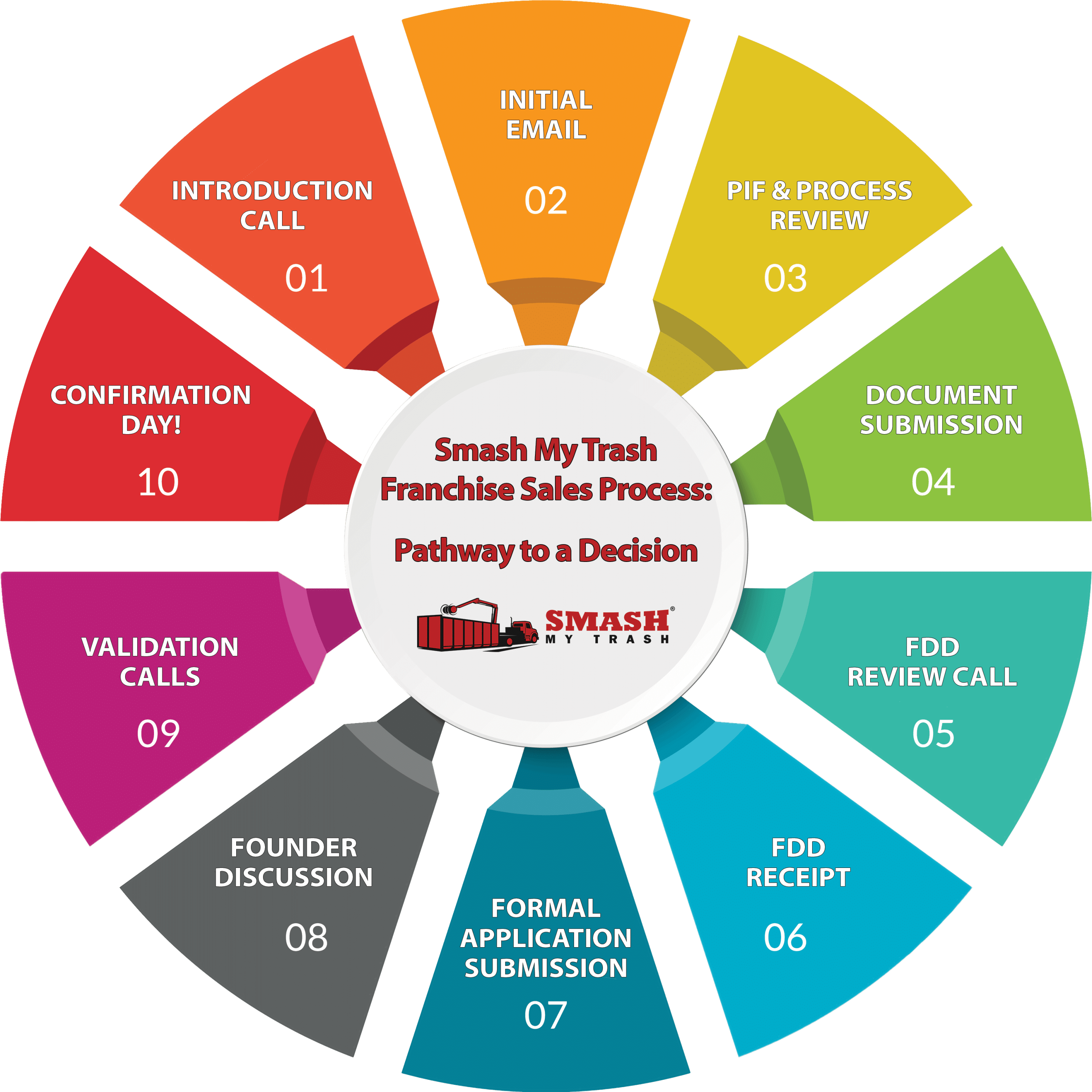 1. Introduction Call
Our process begins with an introductory call. Here, you will discuss the opportunity with a Smash My Trash representative to see if there is alignment between your goals for franchise ownership and the potential business opportunity.
2. Email Candidate
Next, we email you candidate forms that need to be completed to proceed.
Non-Disclosure Agreement (NDA)
Preliminary Information Form (PIF)
Process Definition
3. Call #2 - PIF and Process Review
During our second call, we review the information you submitted on the PIF and discuss the entire "Pathway to Decision" process.
4. Document Submission
If both parties wish to continue down the pathway to a decision, we will provide you with an Authorization & Disclosure form. This authorization must be fully executed and returned to Smash My Trash to enter the background phase.
5. Call #3 - Franchise Disclosure Document Review
On our third call, you officially receive the Franchise Disclosure Document (FDD). The FDD is a comprehensive document designed to inform prospective franchise buyers about every aspect of the business relationship. The goal of the FDD is to enable candidates to make a well-educated decision before concluding the franchise agreement.
6. Call #4 - Disclosure Discussion
Next, we discuss all aspects of the business and answer any questions that have been raised during your review of the FDD. All candidates are required to sign and return the receipt page. 
7. Formal Application Submission
After being disclosed with the FDD, prospective franchise candidates submit a formal, signed application. Smash My Trash reviews the application to determine your qualifications. 
8. Call #5 - Founder Discussion
This is an opportunity for you to connect with and ask the founder of Smash My Trash questions that have come up during your research. It also provides our founder a chance to interview you to assess your ability to be an effective and successful owner. 
9. Validation Calls
Continuing the process, you can connect with several current franchise owners to validate their assumptions about the opportunity and support systems offered to Smash My Trash franchises.
10. Discovery and Confirmation Day
This is your chance to hold discussions with members of the Smash My Trash corporate leadership team. You learn about each of the functional areas and can ask about the support provided and expectations the company has of all our franchisees.
$49,500
Initial Franchise Fee
$339,850 — $400,500*
Initial Investment
We were pleasantly shocked to notice a dramatic reduction in overall cost with our waste vendor.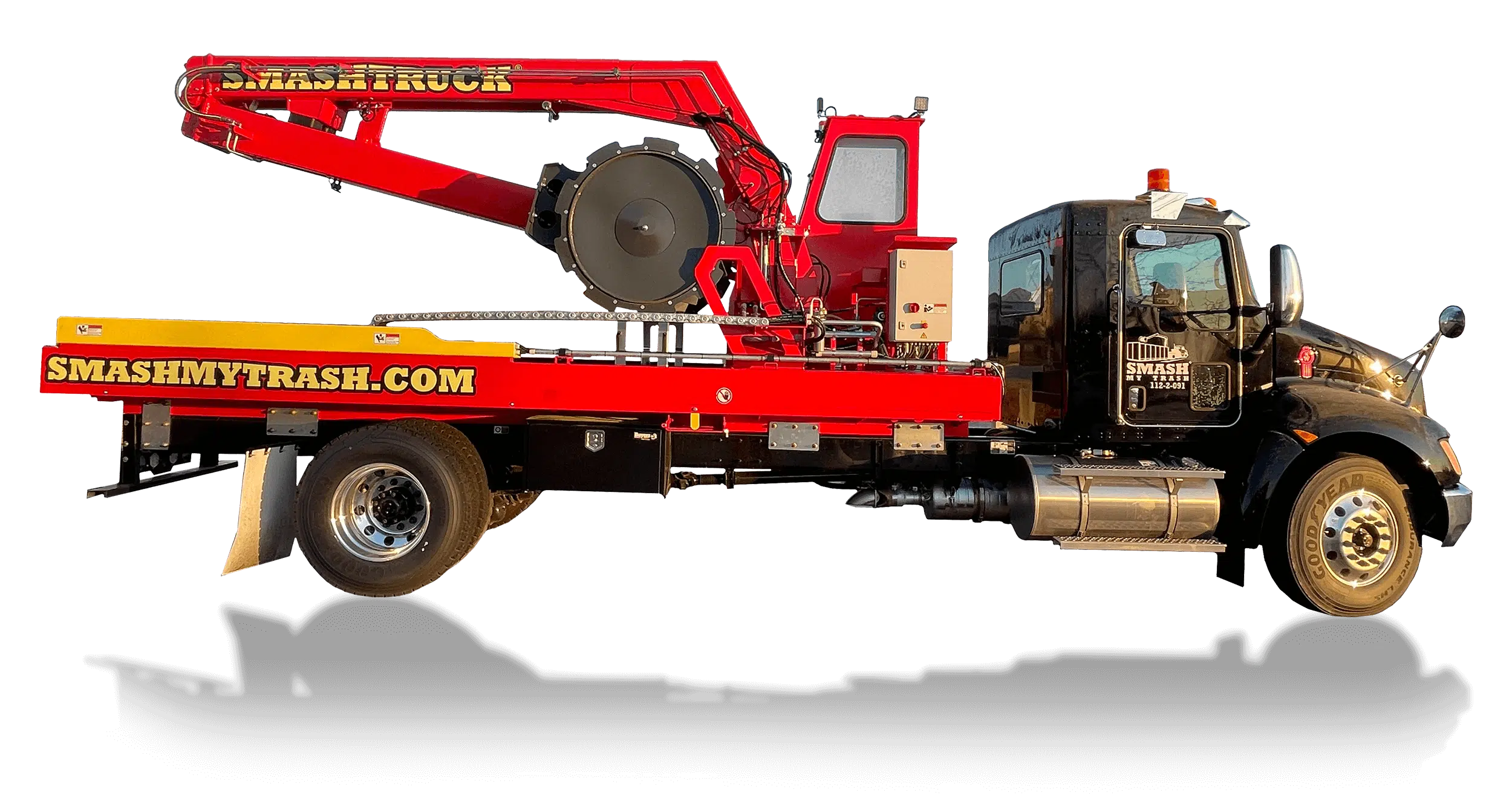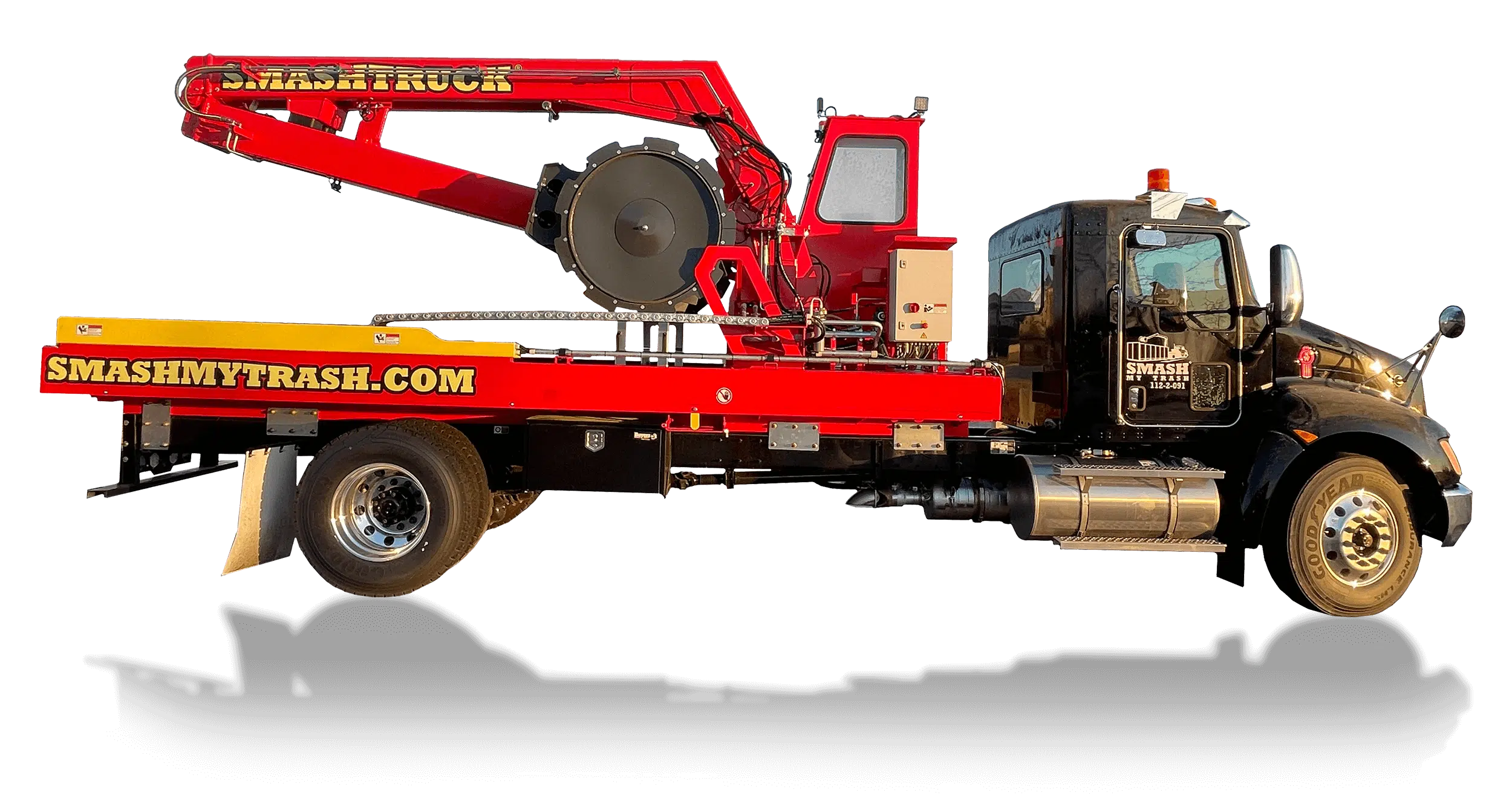 We were pleasantly shocked to notice a dramatic reduction in overall cost with our waste vendor.
Own a Smash My Trash Franchise
Interested in this opportunity to own a Smash My Trash franchise? Complete this form to get started today!
* I understand the total investment necessary to begin operation of a Smash My Trash Franchise
for one territory (population of 200,000) is $339,850 to $400,500.
This is not a franchise offering. A franchise offering can be made by us only in a state if we are first registered, excluded, exempted or otherwise qualified to offer franchises in that state, and only if we provide you with an appropriate franchise disclosure document. Follow-up or individualized responses to you that involve either effecting or attempting to effect the sale of a franchise will be made only if we are first in compliance with state registration requirements, or are covered by an applicable state exclusion or exemption.